Nov
08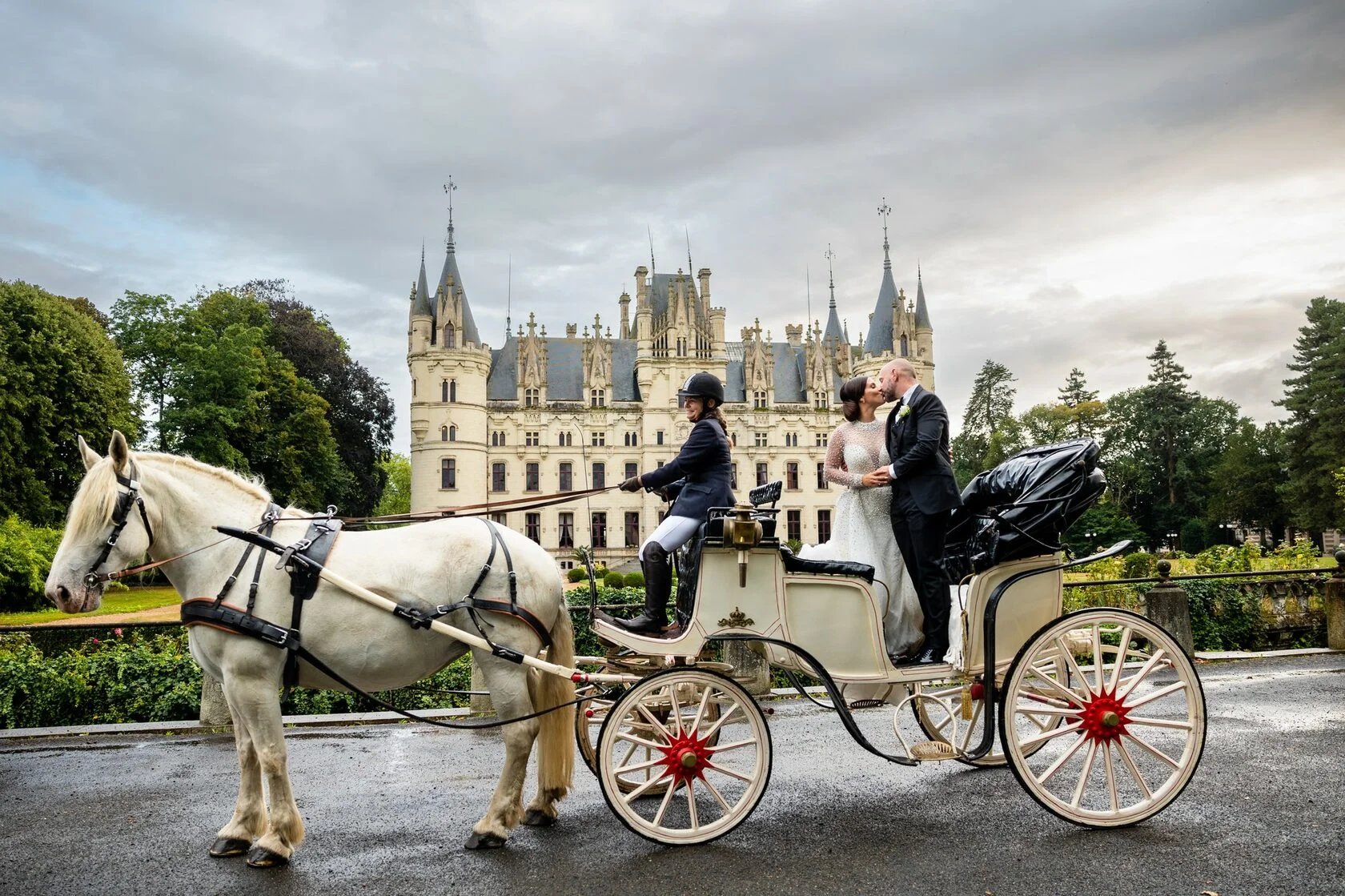 A Truly spectacular French Destination Wedding
When Sebastien and Parisa chose this beautiful french castle for their destination wedding in France, they didn't regret it. And we were very honored to host this delightful couple from the Netherlands and their wonderful friends and family here at Chateau Challain France's No. 1 Destination wedding venue.
Here at Chateau Challain, we've been ever so busy of late, making sure the Chateau remains the best location in France for your wedding day. We've updated the decor throughout the Chateau and made a stunning lounge for our brides to be when they're preparing for their big day. We've also added a new ceremony spot on the front gardens with the Chateau for a spectacular backdrop. And you'll get to see all these new features in this Blog today, thanks to the marvelous Sebastien and Parisa.
Once Sebastien and Parisa 'booked that call' and got in touch with our very talented in-house wedding designer Cynthia Nicholson, the work of planning the perfect destination wedding in France began.
They soon discovered, like all the couples, that Chateau Challain offers them choice. With Cynthia's help and guidance, they began to make their wedding a truly unique experience for them and their guests. From the menu to the decor, everything was tailored especially to their needs. Ensuring their dreams came true. Did the Chateau achieve their high expectations? Well, I think I'll let you look at the pictures and videos to decide for yourselves.
Sebastian and Parisdsa decided on one of our Platinum Packages and added a few little extras to make their special day just that little bit more special. Have I mentioned the fireworks yet? Of course, as with all of our packages, the glamour, sumptuous accommodation, fine French cuisine, and a once-in-a-lifetime experience come as standard. In fact, all of our packages offer services as standard other French Wedding Venues can only dream of.
But you don't have to take our word on that. Here's what Sebastien and Parisa had to say about it:
Parisa:
From the beginning, we knew we had to get married here, and then we knew when we met Cynthia, and from the first time that we talked, it felt very comfortable for us to make a decision. And today I'm very happy that we have chosen this Chateau. 
Sebastien
​:
When we talked to Cynthia, we completely trusted her, because she has so much experience organizing amazing weddings.
Parisa:
We really like white and gold colors, which we discussed with Cynthia.
Sebastien
​:
She gave us a lot of options, which was very nice. We saw so many nice videos and photos, and when we came here last month, it matched with what you get and see here, and that's a big strength of the Chateau.
Parisa:
And we had the same experience with our own wedding.
Sebastien
​:
It was above both our expectations.
Parisa:
Yes, it was, and we really. It felt like home, and it was very nice to be here and to have our big day, our special day here at Chateau Challain.
Sebastien
​:
We were very happy to have had two days. On the first evening, our guests arrived, and not everybody knew each other, so having two days makes people connect better and interact. We enjoyed every minute of our days here. When we told Cynthia we had to leave, I already felt like I missed the place. It really felt like family.
Parisa:
Everybody made us feel like we were part of it.
Sebastien
​:
There were so many beautiful things around us yesterday. It was a great day.
Parisa:
It was a dream come true. Thank you so much.
Of course, we had the very best vendors from Europe to make sure everything simply went divine and that the memories of this beautiful French wedding were captured forever.
Behind the camera was the one and only Flavio Bandiera, one of the best destination wedding photographers in the whole of Europe, if not the world. His work speaks for itself. Plus, we were very fortunate to acquire the services of Alexander Znaharchuk to capture the whole event on film. You simply must watch the videos we've included with this Blog. They are something special.
Cynthia, our in-house designer, was more than ably assisted by the team from Mister Brett Events to produce some simply stunning florals. The rehearsal dinner on their first night was a beautiful affair, with the table design palette working from hues of blue. We served our traditional Hog roast, Chateau Challain style, as the guests relaxed beneath the canopy of trees. 
On the Big Day itself, the real work began. Our beautiful bride prepared in the lap of luxury with her bridesmaids in the newly decorated Bridal Lounge. Tatiana Medved's fantastic work on the hair and makeup unleashed the bride's true beauty and perfectly complemented the Pronovias wedding dress and Casadei shoes.
All the while, the Groom (looking very sharp in his Oger suit) relaxed in style with his Groomsmen.
The Ceremony was held at our Gazebo location in the rear gardens, the bride and Groom surrounded by the ones they love. After the touching exchange of vows, the guests enjoyed the cocktail hour whilst the Bride and Groom were whisked away on a photoshoot throughout the Chateau grounds.
The wedding dinner was held in front of the Chateau, on our recently renovated front grounds. The Chateau was the perfect backdrop for exceptional fine French dining provided by our very talented in-house Chef Alex Dupres. Speeches were given, tears were shed as Sebastien and Parisa spent an unforgettable night with their family and friends. The Gold and white design theme wonderfully balanced by table florals and decorations.  
Yet, the best was still to come. After all, what is a French Destination Wedding without a firework show? Our in-house artificer Toby Ayling was on hand to deliver the perfect send-off.
A very spectacular Destination French Wedding, I think you will agree.
Get Married at Chateau Challain
If you'd like to find out more about getting married at Chateau Challain, call Cynthia:  +1 908 489 5005 or click below to email us.